Hi, Everyone, View Barbara's Photo Album of this area on Picasa.com
Our passage from Aden, Yemen up the Red Sea so far has been an interesting one.  We made it easily through the Bab El Mandeb (Arabic for Gate of Tears, so called due to high winds and strong currents, and lots of ship wrecks), which marks the southerly entrance to the Red Sea.  We luckily had winds of 25 to 30 behind us and a favorable current of 3 knots.  There were lots of ships steaming through the narrow channel for us to dodge, but we had good visibility during the day and our radar works well at night.
Pirates or Military?  We sailed over to west side of the Bab El Mandeb to the island of Doumera, Djibouti, near the Eritrea border, to get out of the wind for a couple of hours and have lunch.  But as we approached that island we were chased down by a 20 ft. speed boat with three men.  I could see in the binnoculars that two were wearing foul weather gear (the seas were rough) and the third one had an AK-47.  We were under sail doing about 7 to 8 knots, and they were doing about 20 knots, so there was no way for us to out run them.  When then pulled up on our port side, all three were yelling at us in Arabic and waving their arms wildly.  There are occasional reports of pirates in this area, sometimes posing as military.  Their boat was not painted or otherwise marked as a navy or coast guard boat, so we were unsure at first if they were pirates or military.  But it turned out they were in the Djibouti navy and that we were apparently in a restricted area (uncharted–maybe some kind of recent military problem?)  The borders between African countries are always a little tense, with lots of military.  We got the message and jibed away from the island, and within 20 minutes we were in Eritrean waters, sailing away from Djibouti, and the navy boat left us alone.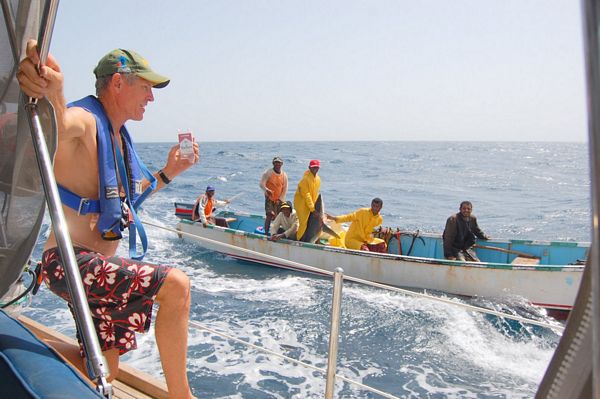 The next day we were approached again by a speed boat, this time with five men that looked like fishermen.  But were they pirates posing as fishermen in order to get close to us–as has happened with other yachts in this area?  They came up along side of us, held up their catch to see if we wanted to buy fish from them (we shook our heads no), but then they asked for water and cigarettes, which we threw to them.  We bought a couple of cartons of Marlboros to use as small gifts ("bakeesh" in Arabic) for Customs officials and situations like this.
After sailing through the night, we anchored in Massawa, Eritrea to get a little rest.  It is a very poor country with the second lowest GNP in the world. About 20 years ago in a long civil war with Ethiopia, it broke away and became its own country.  But it still does not have enough money to clean up the dozens of war-damaged buildings that were either bombed out or shot up with machine guns.  Fuel is still rationed and so scarce we were unable to buy diesel here. Ethiopia doesn't even have a fishing fleet because they don't have fuel for the boats. We decided to move on.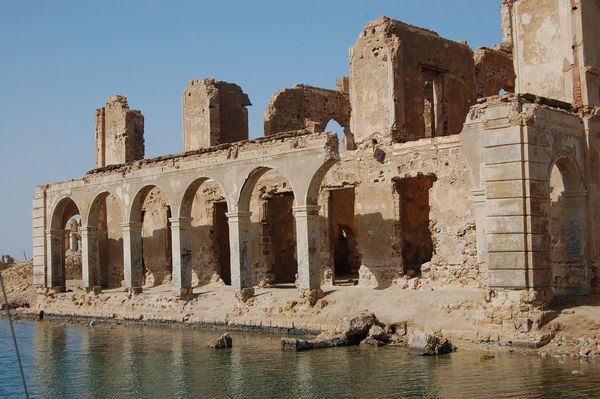 Our next country, Sudan, was not much better. It too is very poor.  We anchored at the ancient city of Suakin, which lays in ruins.  We've sent some of our photos, and you can Google "Old Suakin" for more photos.  Suakin is like a living (barely) ghost town with no power, water or sewer, and about 2,000 people squatting in the ruins. For water, they have donkey pulled water wagons working their way through the ruins, stopping to ladle out a few liters of water to their customers.  We had to take on water here because we had salt water in our water tanks and had to dump all of our water–so that was an interesting experience.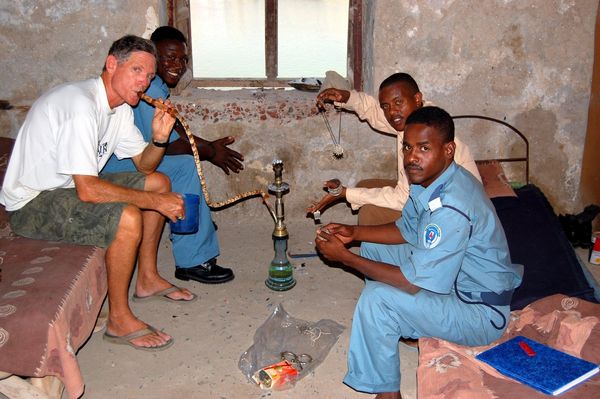 We took a one hour bus ride north to Port Sudan to use the Internet.  The bus cost only $1, and there were 26 people in a bus designed to hold a maximum of 20 people, with no air conditioning. I brought my iPod and Bose headphones, and cranked up the Stones' "Sympathy For the Devil."  We are staying in the worse hotel I have every stayed in in my life.  And it is not cheap.  $85 per night.  But it has the Internet, and that is how we are able to send you this Postcard with photos.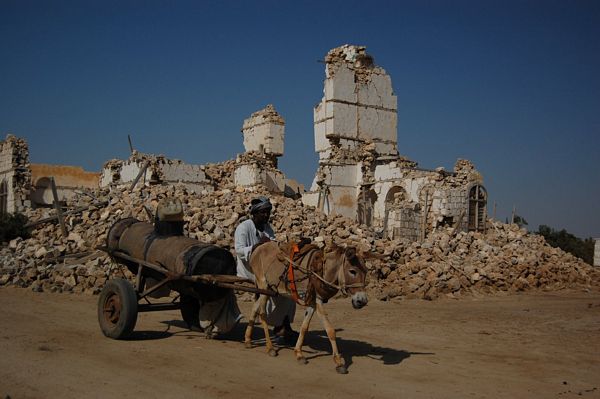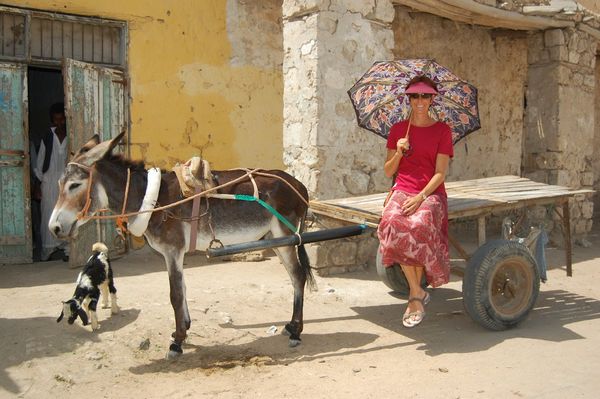 Tomorrow we sail north for Egypt.  God willing.
Cheers,
Michael and Barbara